Master Bow Maker Restorer
Yung Chin is one of the most internationally respected and sought after maker and dealer of fine bows. Before entering the universe of violins and bows he was studying to be a violinist. Among his teachers were George Zazofsky and Louis Krasner. Yung worked with the dean of American bow making William Salchow for seven years before opening his own shop in 1987. He has given numerous lectures about bows around the world and been a frequent judge at bow-making competitions.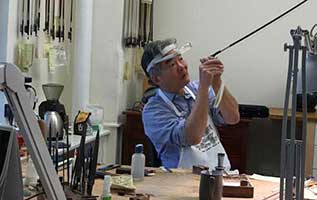 Routine Maintenance
There are reasons why more bows survive into old age and not all of those reasons have to do with accidents. Wear, tear and deferred maintenance can lead to damage too. But mindfulness, routine maintenance, and prompt repairs can prevent more serious problems.
Bow Rehair
The routine of getting one's bow rehaired periodically is important. Playing on old hair or hair that is missing from one side can lead to problems for the bow as well as to the player. When too much hair breaks on one side, the uneven tension pulls the bow to the opposite side, eventually warping the stick. Having too much hair in the bow can lead to a slower response from the bow. There are subtle differences in the amount of hair one may put from one bow to another. These subtle differences can have a very strong impact on the sound quality and playability of your bow.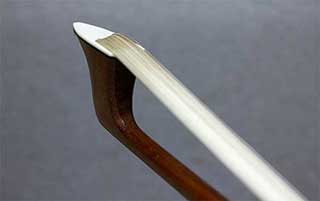 A Change of Climate.
Musicians who travel a lot or live in parts of the world where there are seasonal changes should be aware of the corresponding changes of humidity. Changes in the length of hair have a big effect on the playability and sound of a bow.
Recambering a Bow
The camber of the bow is one of the most important aspects of bowmaking. Over time, the camber will move and the bow may also become crooked to one side. It is important that the player periodically have the camber and straightness checked. Playing on a bow where the camber has come out can lead to less articulation and focus to the sound. The player may have to use more force to initiate the bow stroke. This can also lead to physical problems for the player. The subtleties of changes in camber are immense in regard to sound and playability.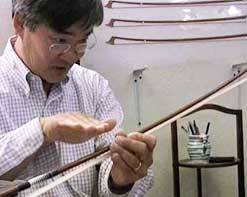 Tip replacement
Tip replacement is common but time consuming . It requires a lot of skill. The style of the tip replacement is dependent on the style of head. A well executed tip doesn't detract from a bow's desirability, but a bad job can ruin the value of a fine bow.