Master Bow Maker Restorer
Yung Chin is one of the most internationally respected and sought after maker and dealer of fine bows. Before entering the universe of violins and bows he was studying to be a violinist. Among his teachers were George Zazofsky and Louis Krasner. Yung worked with the dean of American bow making William Salchow for seven years before opening his own shop in 1987. He has given numerous lectures about bows around the world and been a frequent judge at bow-making competitions.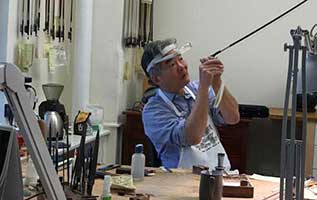 Oberlin bow-making program
Violin Society of America VSA
At the request of the VSA, Yung founded the Oberlin bowmaking program and directed it for eight years. Yung along with colleagues Klaus Gruenke, Joseph Gabriel, and Andy Lim co -authored a book on the life of Nikolai Kittel. His most recent publication is The German Bow, curated along with Bruce Babbitt for the Violin Society of America.
Working with outstanding players
Yung has had the honor and privilege to work with many outstanding players over the past forty years such as Joshua Bell, Kyung Wha Chung, Pamela Frank, Joseph Fuchs, Lynn Harrell, Young Uck Kim, Gidon Kremer, Jaime Laredo,Yo Yo Ma, Nathan Milstein, Midori, Elmar Oliviera, Aaron Rosand, Oscar Shumsky, Isaac Stern, Walter Trampler, Maxim Vengerov, Wang Jian, Emerson Quartet, Guarneri Quartet, Orion Quartet, Takacs Quartet, Tokyo Quartet and many fine players and teachers around the world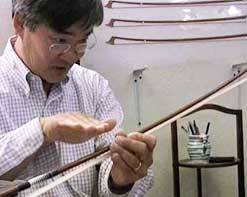 Pernambuco Conservation Initiative
Yung Chin is one of the founders and is the current world wide chair of the International Pernambuco Conservation Initiative (IPCI), dedicated to help create a legal sustainable framework for pernambuco in Brazil. To date the IPCI has helped to plant over 250,000 pernambuco seedlings in Brazil.